THE DEDICATED NOTHING just released their new album "Dawn to Dusk"!
After launching their first single "Love Me Girls The DEDICATED NOTHING just dropped their debut album "Dawn To Dusk" and is now available on iTunes, Fnac, Deezer and Spotify.
Hidden in the basement of Quiksilver's amazing campus, renowned French producers Ken Ploquin and Mako led the recording and mastering of "Dawn To Dusk"'s inspiring power-pop & rock energy, where Dora's rebel lifestyle meets indie rock culture.
Quiksilver ambassadors and signed under Drop In Music label since Day 1 when the four musicians ran their first ever show in front of a 60-person crowd, the DEDICATED NOTHING have recorded both their EP "Running Away" and album "Dawn To Dusk" at the brand's European HQ in St Jean de Luz, a few steps away from Dora's French home of Guethary. Since then the band have exploded on to France's music scene, playing in front of 30,000 strong crowds at the Quiksilver Pro France concerts in recent years, here's the guys in action at the 2014 edition.
Check out their interview below and for more info, go check out their facebook page or their official website, thededicatednothing.com.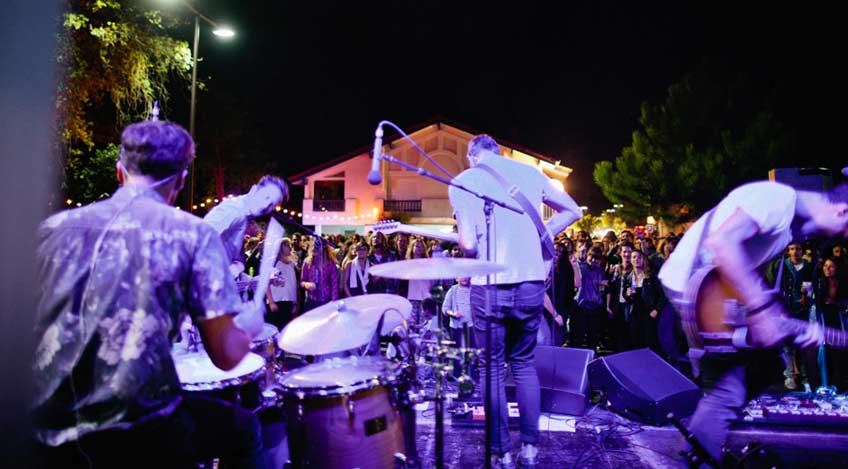 What did you feel about your first album release ?
The achievment of three really busy years… We are just takin git as it comes, with pressure, excitment, impatience, and some pride !!! We are going thru all those different mind sets, which seems inevitable after dedicating all that energy, three years focused on it. And still, we are still stoked and a bit surprised we made it this far, but just so happy and relieved we reached that goal. This record carries our work but also all the support and efforts from the people that helped us make it happen.
How did it all bgin with Quiksilver and Drop In music label ?
This @adventure started at the very end of 2010, at home in the basement of a house… Which became our home studio where all the tracks of this record actually came to life. Before anything, its an encounter between the four of us and with all those who have accompanied us since Day 1. From this very small will to create sound and enjoy music, things got ahead of us and pulled us into something that was bigger than anything we could have hoped for. Greg *singer and Franck (drummer) knew each other from before, and did start the thing with a couple of sessions before they met Clement (lead guitars) and just suggested he could join for some additional fun! Mat (Bass) joined shortly after and it is really amazing how the friendship and passion grew in a few months, just naturally. Then we got the opportunity of doing our first show where Quiksilver's label managers (Drop In Music) happened to be and offered us the first opportunity of entering their amazing studio, near Guethary in the South West of France in September 2011… And it worded out well! That first try put us on track and led to our first ever label contract a year later. Nico Foulet, Anne Mollet, Chloe Engelbach… Drop In Music really got behind us to elevate the Project and actually bring it where it is today. Shows, studio sessions, rehersals… that lead to our debut EP launch in February 2013, "Running Away", that got a great coverage and rocketed us onto radio shows, key media interviews… An unexpected launch for an unknown band, unknown label from the remote South West of France, far from Paris' spotlights! And that pushed us thru to the second step, this record…
This overall project became the story of a crew, a group of friends all focused on that common goal, giving us four the relentless energy to keep going, go further, better and get back in the dark hidden studios of Drop In Music, with the one and only Ken Ploquin, producer of the EP and LP.
What was it like recording the album and working with Ken Ploquin ?
We really got into serious things from Day 1 with Ken… His 30-year experience with some of France's biggest artists including Gainsbourg, M… We had no room for amateurism and if we were to do that record, it was going to be worth it ! haha ! We met in September 2011 for three days and three nights, trying to nail that first session and get something out of it from Day 1, so we definitely got hooked with this full-on comitment and very dedicated approach. This only has left us with lifetime memories, laughs, pressure and loads of stories we, for sure, will tell our grand-childs one day !
Seriously, despite his seniority and experience, he managed to get us comfortable and actually just taught us how to become more professional, taking the best out of us. He also introduced us to Mako (Bertrand Blais), another « monument » of sound and music currently touring with France's famous artists Etienne Daho, that came on the road with us to elevate our stage sound, and teach us how to act, play and take our shows to another level. He ended up mastering the record.
Where did the name 'The Dedicated Nothing' come from ?
The band's name comes directly from Miki Dora's memoires, the « Dark Knight » of Malibu, a counter culture icon that lived thru the 50s in California and finished his colorful life in Biarritz, a few meters from where he recorded the LP… Miki actually thought his peers could be categorized in four groups : the punks, the kooks, the freaks and… the Dedicated Nothing !
Our take on that ? Take things as they come, take life with a smile but dedicate our all to enjoying and creating our lives and be really into doing what we love. And this really mirrors how we created this first LP ; until now, its just an amazing story !
How has the whole surf culture and vibe come in to play for the band ?
Surfing is our passion, our way to disconnect from daily life and gather around a common fun, exciting and outdoors activity. Our band is anchored here, at the heart of Europe's surf culture and its been 10/15 years now we have all been dedicating our lifestyle to surfing and its values. However, we love big cities and this hyper-urbanised culture that comes with it. Our balance and influences are right there, between a laid-back daily lifestyle and the world's leading cultural cities.
Where did the album name 'Dusk to Dawn' come from ?
It came naturally, influenced by France's very influential journalist JD Beauvallet who defined our sound and music as « dark melodic and urgent ». From sun rise to sun set, from start to finish, surrounded by a black&white aesthetic… This really reflects the band's approach and tastes. Since Day 1, our close friend and pro photographer Bastien Bonnarme kept shooting and creating this overall look and feel that perfectly mirrors our mind set, our dedication and the trend we thought was in our reach.
What was the inspiration begind the wave for the album cover ?
Its a shot of Bastien, from a cold winter Irish day where he faced those 15 ft monsters water shooting. We like the energy it carries, along with its perfection and beauty. A mix of chaos and calm, a close link to the feelings we have experienced thru our shows, thru the production of the record, thru our lives along the way… And obviously, we wanted to elevate his work and support as a friend and photographer and it was just so natural to pick one image amongst the thousands he has since he started following us on the road !
What's next for The Dedicated Nothing ?
Play music, as much as we can, get on stage and keep things alive. We are working on the 2015 tour and already have some shows booked to wrap up this year and support the launch of the record. We are also working on new songs and new sounds, already thinking about the next record, and taking things easy, enjoying those amazing moments. We feel privileged and honored to still have the opportunity to share our music with crowds and keep living this dream with the crew that supports us.
Photos: Bastien Bonnarme